true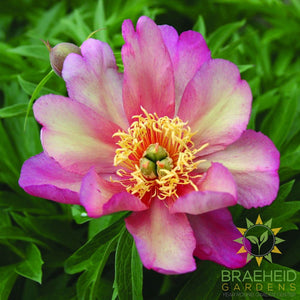 Height: 60 - 70cm (24 - 30 IN.)
Spread: 75 - 90cm (30 - 36 IN.)
Full sun & Zone 3
Julia Rose Itoh Peony, an enchanting hybrid, showcases captivating pink and yellow hues. Its bi-colored blooms exhibit a delicate interplay between warm tones, creating a mesmerizing visual effect. The plant's compact form lends itself well to various garden settings. Julia Rose Itoh Peony's unique color combination adds a touch of elegance and intrigue to outdoor landscapes. This hybrid peony stands out for its sturdy stems, ensuring the blossoms remain upright and vibrant. A popular choice among gardeners, it offers a delightful blend of contemporary and timeless floral charm. With its distinctive color palette and resilient growth, Julia Rose Itoh Peony enriches gardens with a harmonious fusion of beauty and strength.
Well, darn.
Unfortunately, this product is not available for shipping. 
If you place an order in the online store, we ask that you watch your inbox and spam folder for our "Your order is ready for pickup" email. 
We also ask that you pick up your order within two days of notification that it is ready.
Keeping our inventory numbers updated is a big undertaking and as such there may be errors from time to time. If you have questions about the availability of a product, call us! 
Thank you!