true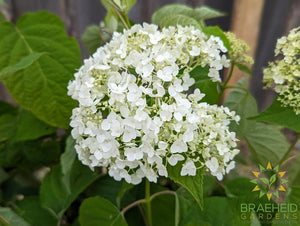 Height: 100 - 125cm (40 - 48 IN.)
Spread: 100 - 125cm (40 - 48 IN.)
Three to four times as many blooms as Annabelle Hydrangea. Very large, round bright white blooms on sturdy, upright stems. Blooms on new wood and can be cut to the ground in fall or spring. Prefers moist, well-drained soil. Tolerates clay, shallow or rocky soil.
*SHIPPING IS NOT AVAILABLE ON TREE & SHRUB INVENTORY. SELECT "FREE LOCAL PICKUP" ONLY DURING CHECKOUT.
** We Recycle used Tree & Shrub Grower Containers! Reduce your footprint and return your Tree & Shrub containers. 
(We cannot accept Tree & Shrub containers from other greenhouses)