true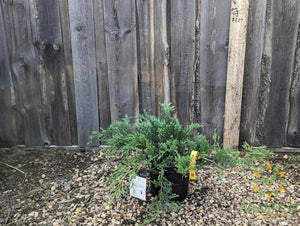 Height: 20 - 30cm (8 - 12 IN.)
Spread: 2m (6 )
Low growing, spreading juniper with finely textured, silver-blue foliage throughout summer and then turns a purple hue in cold weather. Excellent groundcover for large areas and erosion control. Tolerates humidity, wind and drought tolerant once established,
*SHIPPING IS NOT AVAILABLE ON TREE & SHRUB INVENTORY. SELECT "FREE LOCAL PICKUP" ONLY DURING CHECKOUT.
** We Recycle used Tree & Shrub Grower Containers! Reduce your footprint and return your Tree & Shrub containers. 
(We cannot accept Tree & Shrub containers from other greenhouses)