true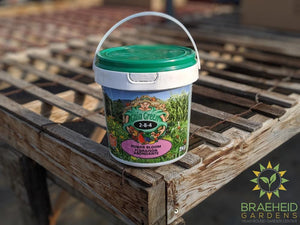 Gaia Green Powerbloom 2 - 8 - 4
High phosphorus and potassium levels encourage profuse blooming and fruiting, while also stimulating root growth.
Not just a fertilizer, Power Bloom embodies the GAIA Green ethos of improving soil quality to support resilient plant growth.
Easy-to-use and long-lasting, this formulation combines ingredients with variable nutrient release rates for feeding plants all season long.
Excellent as a stand-alone fertilizer, but even more effective when combined with GAIA GREEN Worm Castings.
GAIA GREEN Power Bloom was specifically formulated with optimal nutrient ratios to support prolific flowering and fruiting. Power Bloom is highly effective on a range of plant types, including food crops and ornamental species.
ORGANIC
GAIA GREEN Power Bloom is approved for use in organic agriculture by Ecocert Canada (in compliance with Canada's Organic Production Systems General Principles & Management Standards and Permitted Substances Lists (CAN/CGSB 32.310-2015 and CAN/CGSB 32.311-2015))