true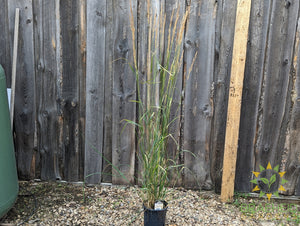 karl Foerster's Feather Reed Grass
Height: 1.5m (5 FT.)
Spread: 2m (6 )
Upright clumps of rich green foliage with tall spikes of red-brown, feathery spring inflorescence. Blooms turn golden-yellow in summer and form beige seedheads over winter. A cool season grass which tolerates a variety of wet soils including clay.
*SHIPPING IS NOT AVAILABLE ON TREE & SHRUB INVENTORY. SELECT "FREE LOCAL PICKUP" ONLY DURING CHECKOUT.
** We Recycle used Tree & Shrub Grower Containers! Reduce your footprint and return your Tree & Shrub containers. 
(We cannot accept Tree & Shrub containers from other greenhouses)