true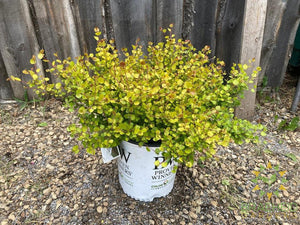 Cesky Gold™ Golden Treasure Dwarf Birch
Height: 60 - 125cm (24 - 48 IN.)
Spread: 60 - 125cm (24 - 48 IN.)
Dwarf form and grows only 10cm (4") per year. Rounded, tiny, yellow-orange or red new foliage matures to bright, golden yellow. Extreme cold tolerance. Train as a small patio tree or use as a small hedge. Prefers a moist, well-drained soil. Drought tolerant.
*SHIPPING IS NOT AVAILABLE ON TREE & SHRUB INVENTORY. SELECT "FREE LOCAL PICKUP" ONLY DURING CHECKOUT.
** We Recycle used Tree & Shrub Grower Containers! Reduce your footprint and return your Tree & Shrub containers. 
(We cannot accept Tree & Shrub containers from other greenhouses)