true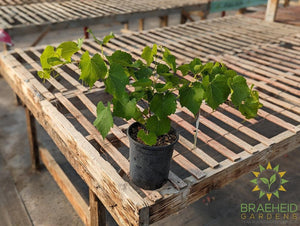 Height: 5m (16 FT.)
Spread: 6m (20 FT.)
Hardy, heavy producer. Compact clusters of blue-black, seeded mid-season grapes. Excellent for juice, wine or jelly. Lobed, yellow fall foliage and shaggy twisting trunk. Requires a support structure. Self-pollinating. Prefers a moist, well-drained soil.
*SHIPPING IS NOT AVAILABLE ON TREE & SHRUB INVENTORY. SELECT "FREE LOCAL PICKUP" ONLY DURING CHECKOUT.
** We Recycle used Tree & Shrub Grower Containers! Reduce your footprint and return your Tree & Shrub containers. 
(We cannot accept Tree & Shrub containers from other greenhouses)