true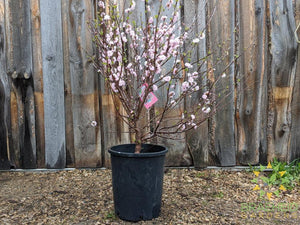 Height: 2m (6 )
Spread: 1.5m (5 FT.)
Double, pink blooms blanket branches in early spring, before foliage emerges. Attractive, coarse, toothed light green, foliage turns yellow in fall. Fruitless. Prefers moist, fertile, well-drained loamy soil.
Tap here tips on How to care for your Double Flowering Plum, How to plant your double flowering plum, how to prune your double flowering plum
*SHIPPING IS NOT AVAILABLE ON TREE & SHRUB INVENTORY. SELECT "FREE LOCAL PICKUP" ONLY DURING CHECKOUT.
** We Recycle used Tree & Shrub Grower Containers! Reduce your footprint and return your Tree & Shrub containers. 
(We cannot accept Tree & Shrub containers from other greenhouses)