true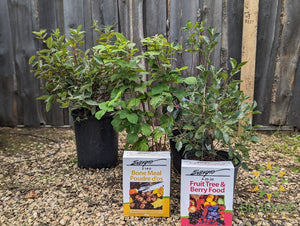 Tight Space - Self Pollinating Berry Bundle
$174.55
Regular price
$193.94
Small-Space Delights: The Compact Orchard Bundle!
Transform your cozy yard into a bountiful oasis with our exclusive Compact Orchard Bundle! Carefully curated for small spaces, this collection showcases four compact self-pollinating shrubs, allowing you to savor the joy of homegrown berries and cherries with minimal fuss, along with 1 box of Bone Meal and 1 Box of Fruit and Berry food for the Spring. 
A Symphony of Flavor:
Combo Haskap - Indulge in a unique blend of flavors with this two-in-one haskap duo. With perfect pollination partners, you'll be treated to a delightful symphony of sweet and tangy berries.
Native Saskatoon - Enjoy the ease of a self-pollinating saskatoon shrub, laden with plump, juicy berries. This classic favorite is a treasure trove of natural sweetness.
Boyne Raspberry - Savor the simplicity of this self-pollinating raspberry bush. Its red, succulent berries burst with flavor, ideal for fresh snacking or homemade treats.
Valentine Cherry Shrub - From the romantic Romance Series, this compact cherry delight steals hearts with its self-pollinating nature. Experience the magic of rich, crimson cherries that make every day special.
Nourish and Thrive: To ensure your Saskatoon orchard flourishes, we provide two boxes of nutrient-rich bonemeal for planting. This essential ingredient fosters robust root development and overall growth, setting the stage for a thriving Saskatoon harvest. And when spring arrives, our fruit and berry food offers the perfect nourishment to support your shrubs' growth and abundance.
Perfectly Sized for Small Yards: Designed with tight spaces in mind, each shrub in this bundle stays small, ensuring you have room to spare in your yard. Their compact growth makes them ideal for patios, balconies, or tucked alongside existing plants.
One is All You Need: With self-pollinating varieties, there's no need for multiple plants. Just one of each shrub is enough to produce a delightful harvest, making it easy for you to cultivate and care for your mini orchard.
The Joy of Growing Your Own: Embrace the pleasures of cultivating your own fruits right at home. This bundle empowers you to take control of your food, knowing it's grown without harmful chemicals, ensuring you and your loved ones enjoy the purest flavors nature has to offer.
A Tapestry of Color and Blossoms: Beyond the harvest, this bundle adds a splash of beauty to your outdoor space. The shrubs' blossoms paint a tapestry of colors in the spring, creating an enchanting visual display that delights the senses.
Start Your Compact Orchard Today: Don't let limited space hold you back from creating an orchard of your own. Order the Compact Orchard Bundle now and witness the magic of homegrown flavors in your very own small-space sanctuary.
Disclaimer: Limited availability. Secure your bundle today and take the first step towards a flourishing compact orchard.