true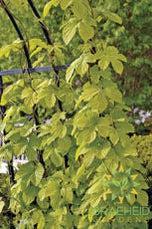 Height: 4 - 5m (13 - 16 FT.)
Spread: 2 - 3m (6 )
Fast-growing, twining vine with striking, lemon to yellow-green foliage. Stems have strong hairs that enable the vine to climb practically anywhere. Best with a support structure. Masses of light green, cone-like blooms hang down from leaf axils in the summer.
*SHIPPING IS NOT AVAILABLE ON TREE & SHRUB INVENTORY. SELECT "FREE LOCAL PICKUP" ONLY DURING CHECKOUT.
** We Recycle used Tree & Shrub Grower Containers! Reduce your footprint and return your Tree & Shrub containers. 
(We cannot accept Tree & Shrub containers from other greenhouses)